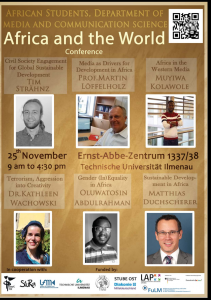 Seid ihr interessiert an Afrika und seine Beziehung mit der Welt? Es geht um Themen wie Nachhaltigkeit, Lösungsstrategien gegen Terrorismus, (Un-)Gleichheit abhängig von Geschlecht und der Sichweise der westlichen Medien auf Afrika.  Welche Rolle spielen die Medien und wie können sie zu nachhaltiger Entwicklung beitragen?
Die afrikanischen Studierenden des Instituts für Medien- und Kommunikationsforschung (IfMK) der TU Ilmenau laden euch herzlich zur Konferenz "Africa and the World" ein. Sie findet in Zusammenarbeit mit ISWI, StuRa und unterstützt durch das IfMK statt.
Samstag, 25. November, 9:00 – 16:30 Uhr in Raum 1337/1338 des Ernst-Abbe-Zentrums (EAZ).
Auch wenn die Konferenz auf Englisch abgehalten wird, muss kein flüssiges Englisch gesprochen werden. Es wird eine kleine Erfrischung und einen Mittagssnack (mit einem Touch afrikanischer Gastfreundschaft) und die Möglichkeit, neue Freunde zu finden, geben.
https://www.facebook.com/events/156356428442713/?ti=cl
Mujiwa Mufutau Kolawole (Mitglied des Organisationskomitees)