---
ISWI 2019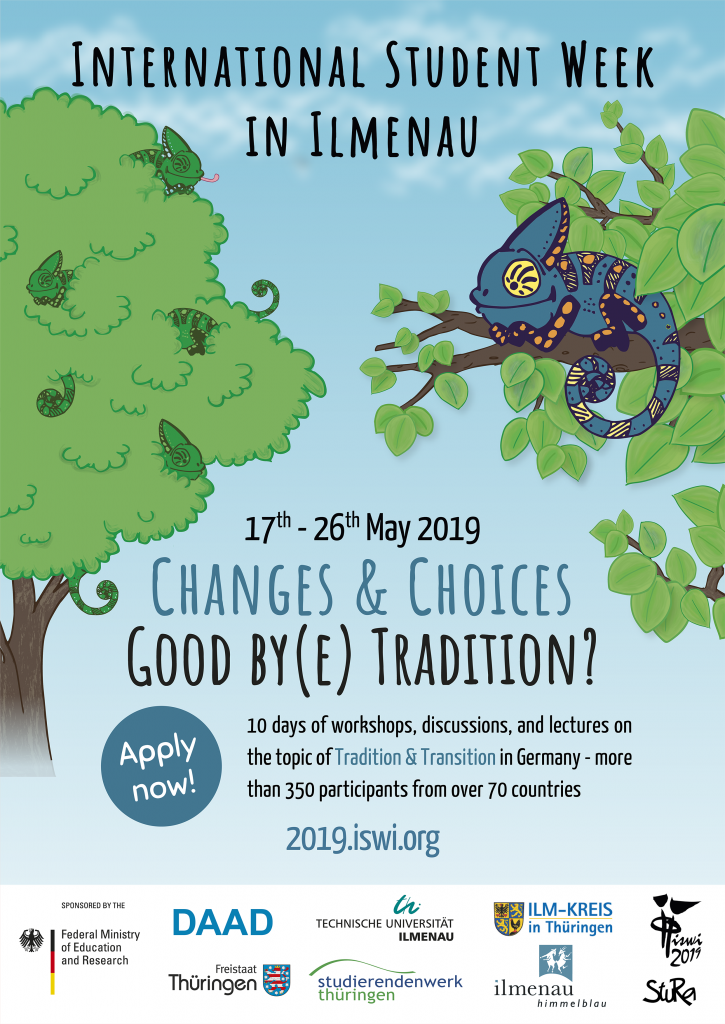 Thema/Motto:
Tradition and Transition/Changes and Choices: Good by(e) Tradition?
Thema/Motto (deutsch):
Tradition und Wandel/Vom Wandel und von Möglichkeiten: Auf (ein) Wiedersehen, Tradition?
Patrons:
Waris Dirie, Human Rights Activist, Author, Former UN Special Envoy, Former Supermodel
Rob Hopkins, environmental activist, co-founder of the Transition Network, author, social entrepreneur
Participants:
336 Students
Short description of the topic of the ISWI 2019:
What would our world be like today if traditions had never been questioned? What would it be like if there weren't people like Desmond Tutu and Nelson Mandela, Simone de Beauvoir and Rosa Parks or Martin Luther King? You and many others inspired us to find the theme of the International Student Week in Ilmenau 2019: Tradition and Change.
"Of Change and Opportunity: Goodbye, Tradition?" is the motto of the forthcoming conference. Driven by the tension and apparent contradiction between tradition and change, we want to engage with the global perspective. The motto invites us to recognize the interaction of traditions, changes and decisions and at the same time promotes a deeper examination and sensitization. Guide our decisions with a goodbye with tradition or in some cases is it about time"Goodbye Tradition" to say?
Additional Information:
English Website ISWI 2019
German Website ISWI 2019
---
ISWI 2017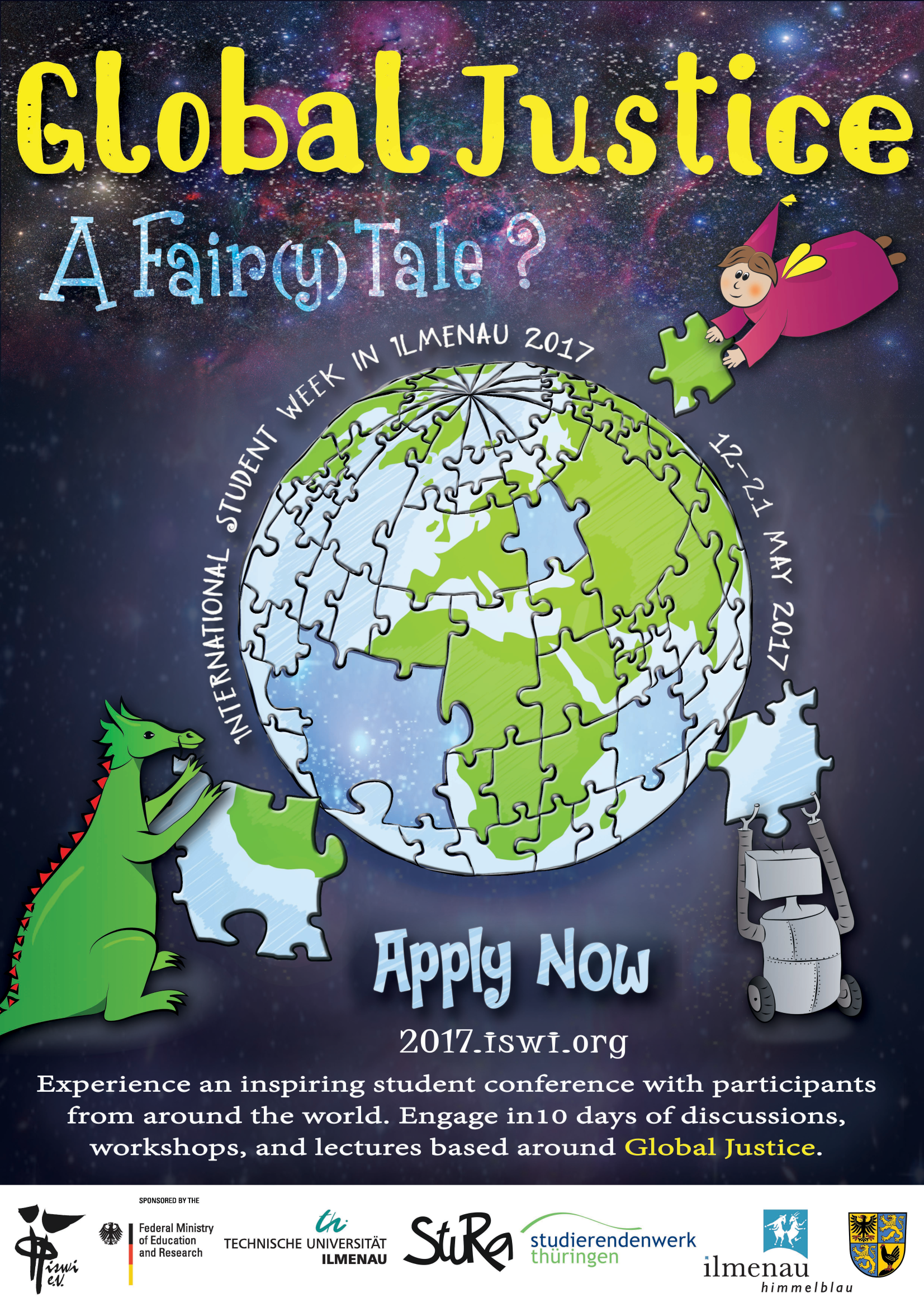 Thema/Motto:
global justice/Global Justice – A Fair(y) Tale?
Thema/Motto (deutsch):
globale Gerechtigkeit/Globale Gerechtigkeit – Ein Märchen!?
Patrons:
Kumi Naidoo, human rights activist and environmentalist
Participants:
341 Students
Short description of the topic of the ISWI 2017:
ISWI 2017 is dedicated to the topic of global justice. For us, global justice means giving everyone a fair chance to live with dignity and contribute to society. The topic thus includes aspects such as global solidarity, equal access to resources, but also the possibility of free access to high-quality education for everyone. Our global society is experiencing an age of unprecedented connectivity. Modern media enables us to share our needs and concerns with people all over the world, to become aware of global connections and to expand our sense of justice. Local problems quickly become global; Thanks to the Internet, the world community can follow almost everything at any time, watch almost anywhere, have a say and help shape society - and yet a just world seems to remain a distant utopia.
As part of the ISWI 2017, we would like to discuss different interpretations of the concept of global justice and different ways of implementing it. In addition, the role of influencing factors such as politics, economy, media, technology and art should be considered and analyzed with regard to their contribution to global justice.
Additional Information:
English Website ISWI 2017
German Website ISWI 2017
---
ISWI 2015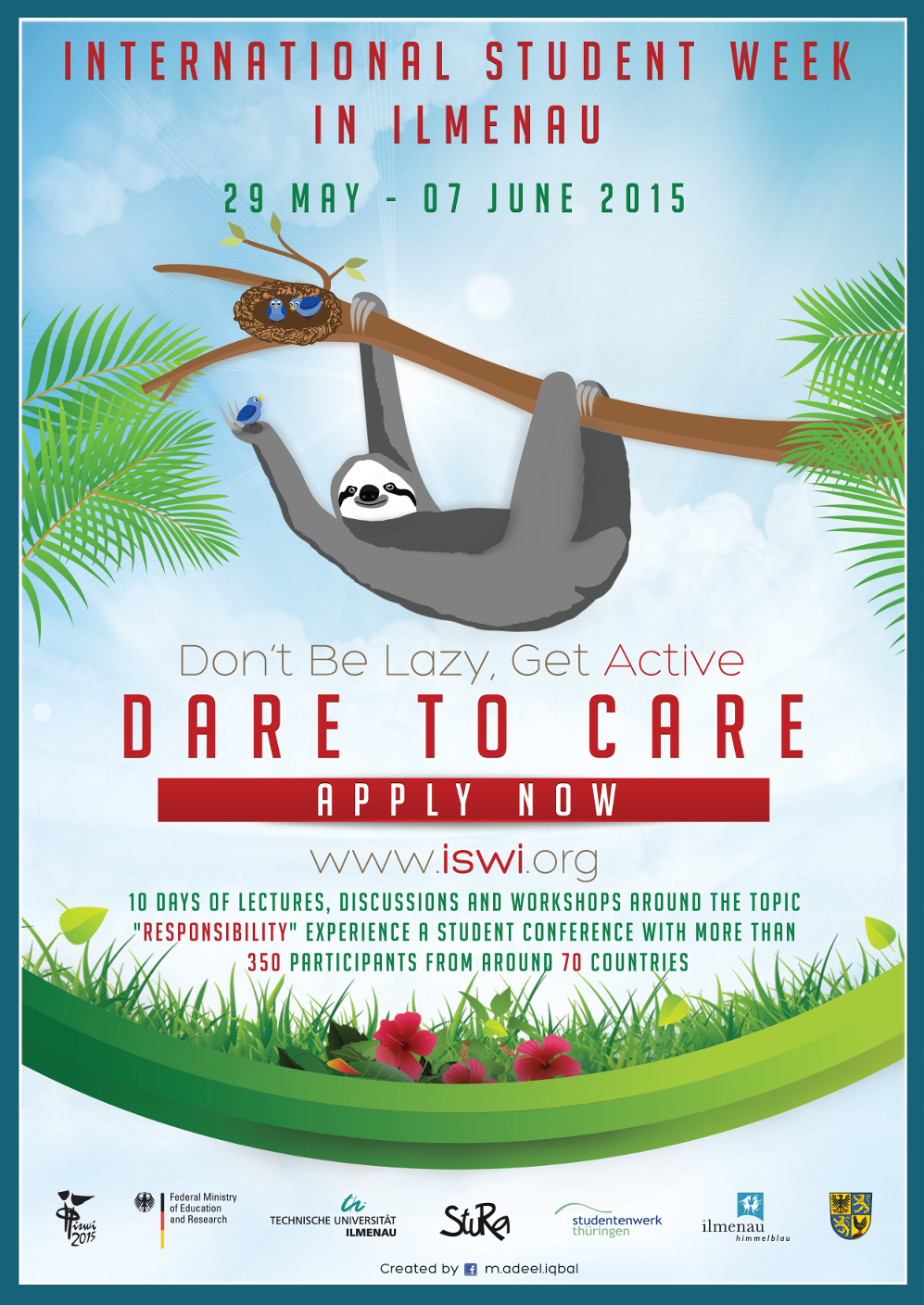 Thema/Motto:
responsibility/dare to care
Thema (deutsch):
Verantwortung
Patrons:
Jakob von Uexküll, Schriftsteller et Gründer des Right Livelihood Award – également comme alternative au prix Nobel
Participants:
382 Students
Description of the ISWI 2015 theme:
Uprisings, rebellions and changes of power are among the social upheavals that have decisively shaped the world view in recent years. Such unrest is often motivated by pent-up dissatisfaction within the population. This dissatisfaction can be traced back to corresponding power structures that do not or do not want to do justice to the responsibility assigned to them. Initiatives, NGOs and associations try to become active in such places in order to bring about social changes. In many areas of public and social life, responsibility lies in the hands of a few people. How can this be dealt with? What control mechanisms make sense here? Is it good for a few to take full responsibility? Or could responsibility also be distributed equally among several or all people? Constructs like states are human inventions and therefore dependent on humans and their sense of responsibility. In view of the fact that this modern and globalized world is still marked by wars, suffering and abuse of power, the question arises: Who takes responsibility for all this evil? Can one simply appeal to a higher authority and only carry out its orders? Such explosive questions can make people aware of their helplessness in the face of the problems of the globalized world, but they can also give an impulse for further thinking and action. What is the meaning of war, progress and civilization? What do people want? What does responsibility mean to you?
During the ISWI 2015 we would like to address these questions together with students from all over the world. Together with them we would like to discuss our role as future responsible persons within society, develop solutions to existing problems and take responsibility together. It is particularly important to convey that each individual has an influence on shaping our future.
Additional Information:
English Website ISWI 2015
German Website ISWI 2015
---
[table id=1 /]